Gas leaks and emergencies
Find emergency contact information for our home and business distribution networks and transmission pipelines below, plus instructions for what to do if you smell gas.
Home and business gas emergencies
AGIG owns the Australian Gas Networks and Multinet Gas natural gas distribution networks in:
Victoria (Echuca, Melbourne, Mornington Peninsula to Bairnsdale, Mildura, Albury)
South Australia (greater Adelaide, Mt Gambier, Riverland, Port Pirie and Whyalla)
Regional NSW (Albury, Wagga, Temora, Tumut Valley, Cooma)
Queensland (north of Brisbane River to North Lakes, and west of Brisbane from Augustine Heights to Leichhardt)
Find out who the distributor is for your postcode.
Emergency contact:
If you smell gas in the street or on your property,
call: Australian Gas Networks on 1800 GAS LEAK (1800 427 532)
Multinet Gas on 132 691
Non-emergencies:
If you have an unexpected gas outage or non-urgent enquiry, call:
Australian Gas Networks on 1800 898 200
Multinet Gas on 1300 887 501
---
Transmission pipeline emergency contacts
AGIG owns natural gas transmission pipelines across Australia. For emergencies within these corridors, property owners, pipeline operators and contractors should call the state contact centre below.
In Western Australia and Northern Territory
---
(for the Dampier Bunbury Pipeline, Tubridgi Gas Storage or the Tanami Gas Pipeline),
call: WA/NT Transmission Pipeline Emergency on 1800 019 919
In South Australia
---
(for the Riverland Pipeline between Angaston, Mildura and Murray Bridge),
call: SA Transmission Pipeline Emergency on 1800 808 526
In Queensland
---
(for the Wide Bay Pipeline between Maryborough and Rockhampton),
call: Qld Transmission Pipeline Emergency on 1800 017 000
What to do if you smell gas in your building or home
Turn off all appliances and pilot lights
Turn off your supply at the gas meter – see below
Open all doors and windows for ventilation
Contact your licensed gas fitter to repair the leak and relight appliances
Remember:
Don't look for a gas leak with a naked flame or other ignition source
Don't operate electrical equipment close to a gas leak
Don't turn any lights on or off, use a telephone, or use a flashlight at the risk of causing a spark that could start a gas fire
Don't smoke, light matches, or use a cigarette lighter inside or while on the property
---
How to turn off your residential gas supply
If you don't know where your meter is located, contact your gas retailer – their name will be on your gas bills. If you don't receive a gas bill, you should ask your landlord or real estate agent.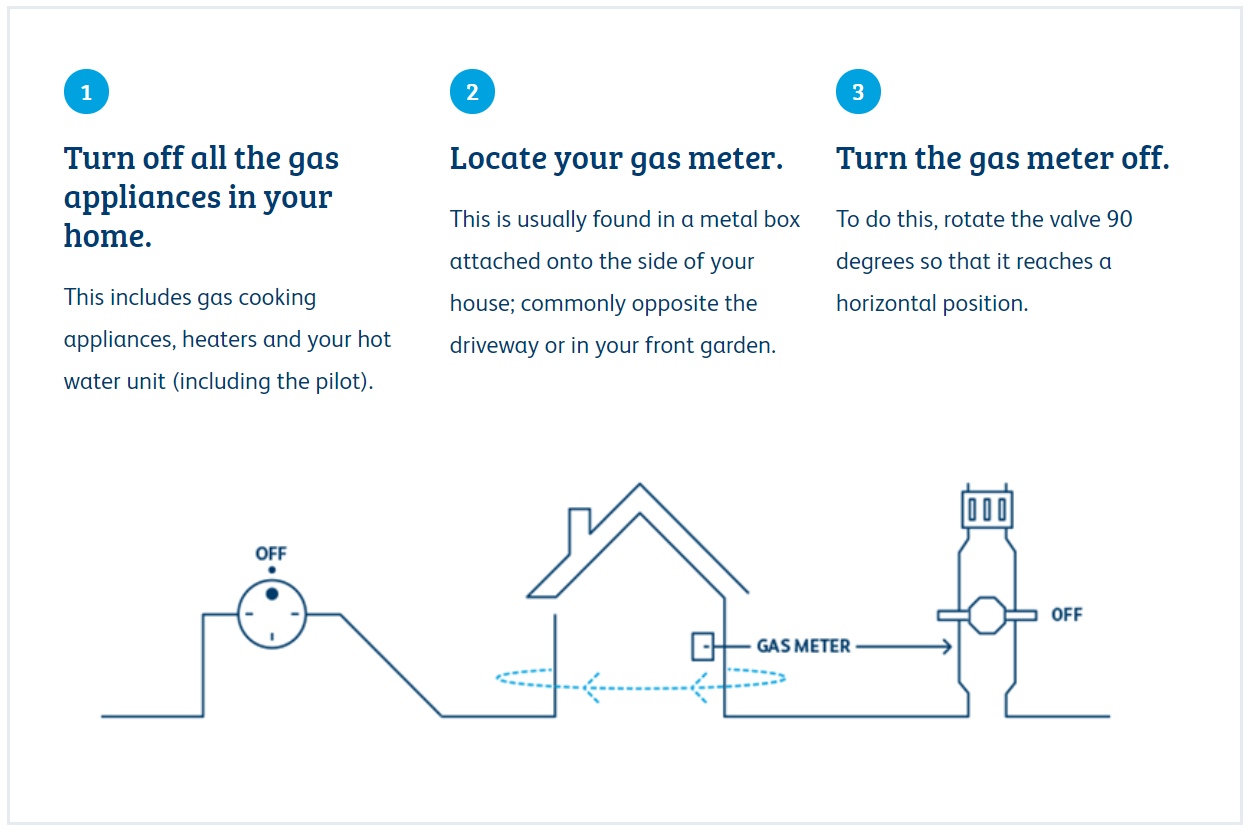 Your responsibilities
The home or business owner is responsible for their building's gas installation, including any associated costs, and should use a licensed gas fitter to carry out any gas work.
If a gas leak occurs between your gas meter location and your appliances, you should contact a licensed gas fitter to rectify the problem. Your gas fitter will be responsible for carrying out work at your gas meter outlet up to (and including):
The gas appliance
The pipework from the gas meter to the appliance
Any flues or ducts
Our responsibilities
As your gas distributor, we're responsible for work on the gas meter and the gas distribution network – this includes the street mains and the pipework connecting these mains to your gas meter. If a gas leak occurs in these locations, we are responsible for its repair, including any associated costs.
---
Digging near Pipelines? Dial before you Dig!
The biggest risk to underground pipelines and associated infrastructure is people or organisations carrying out unapproved digging or works near the pipeline.
Before carrying out any excavation work, it's your duty to lodge A Dial Before You Dig enquiry at least two business days beforehand. Dial Before You Dig is a free national referral service designed to prevent damage and disruption to Australia's vast infrastructure networks that provide essential services we use every day.
Neglecting to obtain Dial Before You Dig plans before excavating can lead to costly disruption of essential services and injury or death to workers and the general public. It can also lead to heavy financial penalties.
Visit Dial Before You Dig or call 1100 to lodge a free enquiry.
Read the Pipeline Safety and You brochure that explains what you need to be aware of if you live or work near an underground pipeline. Or learn more about working within the transmission pipeline corridor.
---
Other contacts For life threatening emergencies, call: Police, fire and ambulance services on 000
For flood, storm, tsunami and earthquake emergencies, call the SES from anywhere in Australia:
State Emergency Services (SES) on 132 500