Image: Artist impression of the HyP Murray Valley production facility.
A globally significant decarbonisation project
Gas is essential to our economy and modern lifestyles, providing nearly a quarter of Australia's total energy supply. Although natural gas is currently cleaner than electricity delivered by the grid, there's more we can do to reduce emissions while also contributing to energy security and keeping costs as low as possible.
It aligns with our vision for a renewable gas future and delivering 10% renewable gas in our networks by 2030.

About Hydrogen Park Murray Valley
Hydrogen Park Murray Valley is the next step in our renewable gas journey, building on Hydrogen Park South Australia (HyP SA)and our plans for Hydrogen Park Gladstone (HyP Gladstone).
Enabled by $32.1m grant funding from the Australian Renewable Energy Agency, the $44m project is being developed by Australian Gas Networks and partners ENGIE.
Located alongside North East Water's West Wodonga Wastewater Treatment Plant (WWWTP), the 10MW electrolyser would use water from the WWWTP and renewable electricity from AusNet's electricity distribution network to produce renewable hydrogen.
The renewable hydrogen will be blended with natural gas, at volumes of up to 10% for supply into the existing gas distribution networks across Albury and Wodonga, delivering a cleaner energy future to more than 40,000 business and residential connections. Industrial gas users would also receive the renewable gas blend.
HyP Murray Valley also has the capacity to supply industry and transport markets. We are also working with North East Water to assess if the oxygen produced (as byproduct) can be used in their wastewater treatment processes.
The interconnected nature of the project with the WWWTP and the large market reach makes HyP Murray Valley a first for Australia and a project of global significance.
The Australian Hydrogen Centre selected Wodonga as the most suitable location to develop this blending project through a multi-criteria analysis of more than 30 potential areas. The location choice considered the characteristics of the gas network and associated infrastructure to deliver a renewable hydrogen production hub in Wodonga that is aimed at decarbonising local gas supply, industry and the transport sector.
Work is currently focussed on engineering, design and approvals as we work towards an internal investment decision (Final Investment Decision, FID) before mid-2022. Production from the facility is expected to commence in late 2023 with delivery to customers in 2024.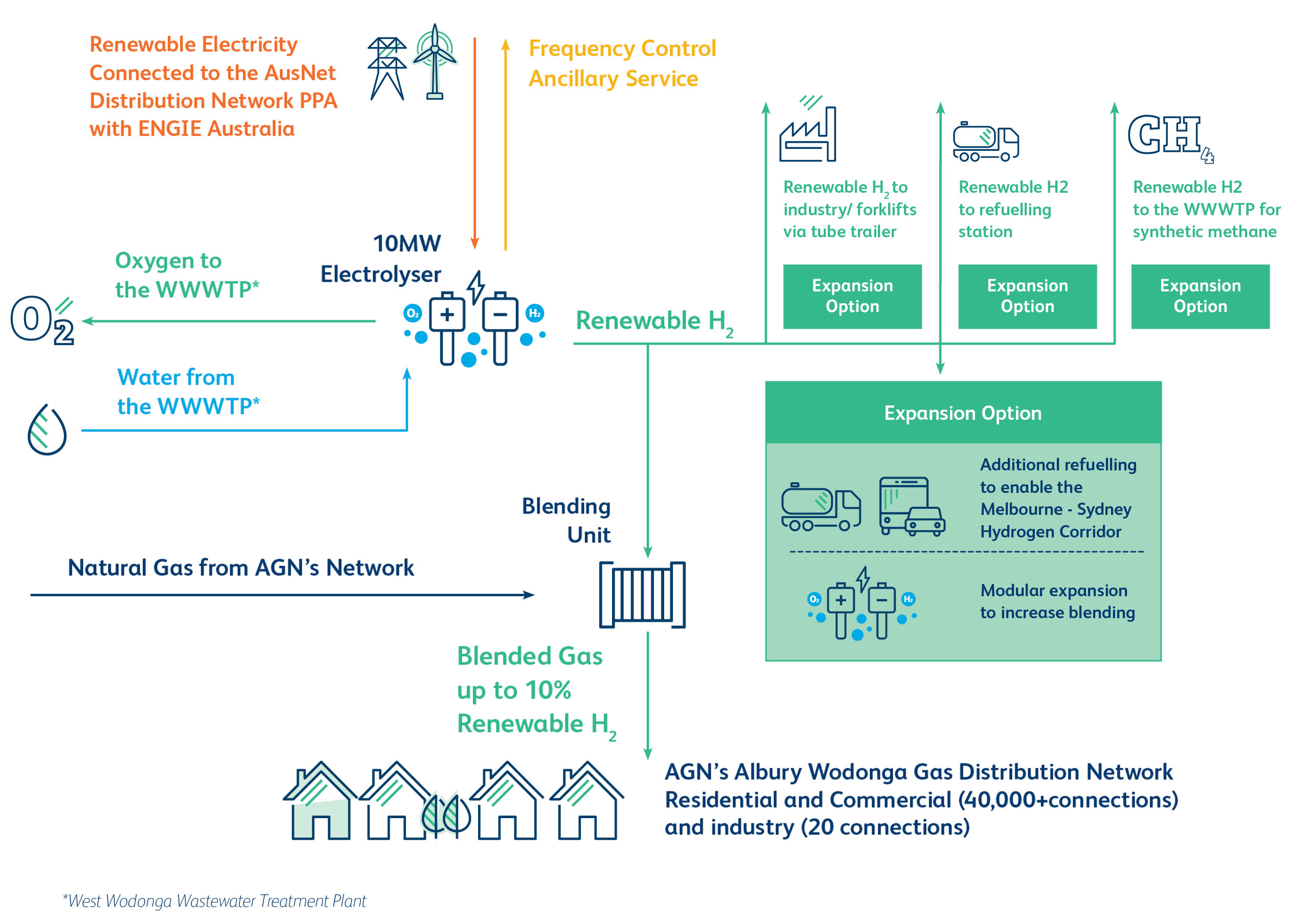 Fast facts
| | |
| --- | --- |
| Final Investment Decision (FID) | Quarter 2 2022 (expected) |
| Online | Quarter 4 2023 (expected) |
| Delivery | 2024 |
| Electrolyser | 10MW |
| Production | Up to 177kg per hour |
| Storage | 900kg onsite |
| Electricity | Renewable electricity via AusNet grid* |
| Water | 15L for 1kg of hydrogen** |
| Markets | Up to 10% (volume)renewable gas blend to around 800 homes Potential for direct industrial supply and refuelling |
** For context, annual volumes used to produce the hydrogen will be very low, equivalent to less than 0.2% of Wodonga's annual water consumption.
Project timeline

Find out more
Contact us
For more information:
For media enquires:
Our Renewable Gas Projects
Hover over the green dots to discover how we're making the renewable gas future a reality